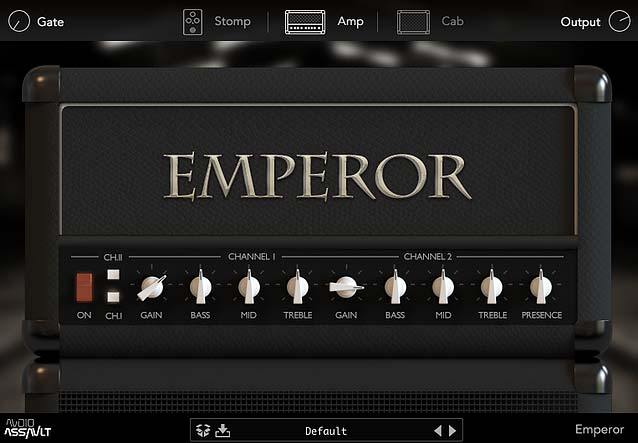 Audio Assault Emperor v1.0 WIN-OSX
Size 270 Mb
Emperor is part of our amplifier series, each of which brings a full guitar rig into one easy to use plugin!
​
Emperor is inspired by a proprietary blend of modern metal legends, with a brightness and chunk that can cut through the heaviest mixes.
Combined with a flexible pedal board and effects loop, as well as our Virtual Cabinet with optional IR loader, Emperor makes it easy to craft the perfect tone quickly!
Delay: A flexible delay unit that is capable of adding depth and space to your tone!
Reverb: A sinfully simple, yet flexible reverb unit that is great for emulating small spaces or infinite drones!
Auto-Wah: A Wah pedal with character! Using the Sensitivity control to switch between Auto and Manual modes, and the resonance control to choose how strong the Wah effect will be! Rocking the pedal back and forth will change the pivot point in Auto mode, and will allow you to manually perform the Wah pedal using your mouse or a midi controller!
Cab Section:
The Cab section utilizes our virtual cab technology to deliver the feel and microdynamic movements of a real speaker in a real room! The virtual cabinet section features a virtual microphone that you can move to find the sweet spot and perfect your tone, and allows you to choose from 4 microphone and cabinet models! The included HP and LP filters help shape the output to fit perfectly in your mix. Use the Distance control to adjust the proximity of the microphone to the cabinet. The Cabinet menu also allows you to access Emperor's built in IR loader, allowing you to use your own IR collection within Emperor!
Included Microphones:
Dynamic 57: Based on that famous workhorse microphone! You know the one!
Condensor T1: Based on a legendary Large Diaphragm condenser, this mic delivers a present midrange bite!
Ribbon 121: Based on a classic dynamic ribbon mic, this mic is well known for keeping harsh upper mids at bay!
Dynamic 421: Based on another studio workhorse, the 421 delivers a midrange bite without being too harsh in the upper mids!
Included Cabs:
British 4×12: Based on a legend that helped define rock and metal!
American 2×12: Based on a series of legendary combo amps from a name that started Rock & Roll.
Japanese 2×12: Based on a popular Japanese line of cabinets that deliver a big bottom end!
German 4×12: Based on a legendary German cab beloved in Rock & Metal for it's midrange presence!
IR Cabinet:
Selecting "IR Cabinet" will change the Mic selector to an IR selector, allowing you to choose between 14 included custom cabinet IR's.
"IR Cabinet" bypasses the virtual cabinet.
The folder icon to the right allows you access to the folder where the included IR's are located, allowing you to add your own IR collection to the directory folder for use in Dominator.
Dominator is available in VST,VST3,AU,AAX & RTAS plug-in formats for both Mac & Windows.