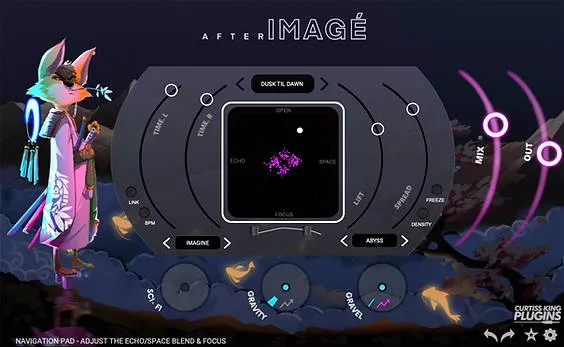 Curtiss King – After Imagé v.1.0.4 VST2 VST3 AU [WIN & macOS]
After Imagé is an interactive, state of the art echo and reverb plugin engine… Relentlessly defended with honor by a fox called Sox!
THE JOYSTICK
Play while you create!
Your centre Joystick is a powerful XY pad that allows you to rapidly morph between the built in Echo and Space engines at the core of the plugin, assisting you in creating your perfect After Image.
If you're looking for pure untouched Echo then slide hard to the left, or if it's an inspiring reverb Space you're after then slide hard to the right. Slide up or slide down to open or focus the stereo image, or leap into the abyss by exploring the possiblities between the extremes.
All the while, you'll stay guided by a purple visualizer that reacts to the dynamics and breadth of the sound you create.
Lets dive deeper!
ECHO SECTION
The Echo section was designed to give you maximum sonic flexibility without overwhelming you with uneccessary controls. We delved deep to bring you a world of Echo, anything from pure slapback delays to rich analog echoes, the choice is yours!
TIME SLIDERS
Take control of 2 curved sliders to adjust the Echo time of your left and right channels independently. Explore and you'll be amazed how much can be achieved with these 2 sliders alone.
LINK
Activate the Link button to connect both Timer Sliders to each other. A super smart way to keep the Echo times of both your L & R channels in line.
BPM
Illuminate the BPM button to sync your echo times to the pulse of your beat, or deactivate to explore the realm of chilled out off-beat delays.
ECHO NAVIGATOR
Your super fast way to traverse the deep echo engine within. Choose from an abundance of different styles that each house various feedback and texture configurations under the hood.
REVERB SECTION
A pristine Reverb engine designed from the ground up to bring you multi dimensional algorithmic spaces. Smart controls, intuitive design and inspring sound.
LIFT
Lift your Reverb Space away from your original dry signal by increasing this slider, giving the perception of increased depth.
SPREAD
Glide up the Spread slider to broaden the stereo image of your Reverb Space and push the outer boundaries of your speakers.
FREEZE
Being frozen in space and time has become a reality with After Image.
Activate the Freeze button to send your sounds into infinite decay.
Tip: Automate this button on/off at specific points in your track!
​
DENSITY
Push the Density button to thicken and add extra weight to your Reverb Space and let the powerful multiband compressor get to work under the hood.
​
REVERB NAVIGATOR
Your dedicated navigator to explore the great palette of Reverb styles that are hosted within. Each style varies the characteristics of all controls within the Reverb section.
OUPUT SECTION
The output section gives you dedicated controls to finese the balance and output level of your After Image.
This is your go to section to achieve a quick and quality overall mix, blending your selected Echo/Space FX and your original Dry signal.
MIX SLIDER
A smooth curved slider to effortlessly control the balance between your Wet & Dry signal.
MIX LOCK
When activated the Mix Lock button will ensure that your current Mix Slider balance stays in place whenever you decide to change Presets.
OUTPUT SLIDER
A simple super accessible slider to change your output volume, safeguarded by an in built Limiter at extreme settings.
GLOBAL FX
Your 3 Global FX modules allow you to add even greater sonic characteristics and dynamic manipulation to your After Image.
All your Global FX modules come housed with a Power button, a blue arc'd Amount Slider and Intense Mode options.
SCI-FI
Turn on the Sci-Fi module to unleash a chorusy, phasery paranormal concoction and add some modulation to your After Image.
Tip: Activate the arrow button to increase Sci-Fi intensity!
GRAVITY
Never again do you need to worry about ambience clouding your mix. After Image gives you Gravity, a force that you can use to duck your Wet signal down behind your Dry signal.
Tip: Activate the arrow button to bend the laws of Gravity further!
GRAVEL
The Gravel module is here for those of us that like to add a bit of analog grit and drive to our sound.
Tip: Activate the arrow button to heat things up further!
ANALOG FILTERS
One of the most hailed features of our last plugin release 'Tapeboy' was the smooth characteristics of its in built filters.
After Image has made a home for this so that you can continue to get the same classic analog style filters to shape and craft your sound.
Lo-Cut Filter
One of the most musical sounding Lo-Cut filters that you'll ever use, with it's frequency dependent varying slope adjustable from 20Hz up to 1khz.
Hi-Cut Filter
Smooth out the top end of your sound with a Hi-Cut filter modelled on legendary passive designs, adjustable from 20Khz down to 1Khz.
SYSTEM INFO
MAC OSX 10.9 or later (64-bit)
Windows 7,8, 10 (64-bit)
2 GB RAM (4GB recommended)
​FORMATS
VST2 (64-Bit)
VST3 (64-Bit)
AU (64-Bit)