Sample Logic DRUM FURY: Apocalyptic Drums KONTAKT
DRUM FURY is an extensive 11 GB collection of over 100 apocalyptic KONTAKT drum instruments. This is epic cinematic percussion at its finest, featuring multi-sampled performances that have been captured and programmed to perfection. A world of percussion awaits you, from thunderous Taiko ensembles to one of the most extensive collections of Tom instruments available. DRUM FURY crashes onto the scene to redefine epic drum libraries with a bold and characterful sound. This collection sports an intuitive user interface with simplicity at the core, allowing you to get straight to the good stuff without excessive clicking.
DRUM FURY combines exceptional content with streamlined creativity, sporting an intuitive user interface for fast and easy performance. The idea was to create interface controls around simplicity yet with the essential tools to instantly shape the sound to your liking. The connection between you and your drums has never been more direct as DRUM FURY takes a streamlined approach with user experience at the forefront. Explore the organic acoustic sound without losing your way in the interface. Tailored sound shaping parameters within the main window give you enough control for broad-stroke scoring while the pop-up menus allow you to dive deep into EQ, Compression, Delay and Reverb.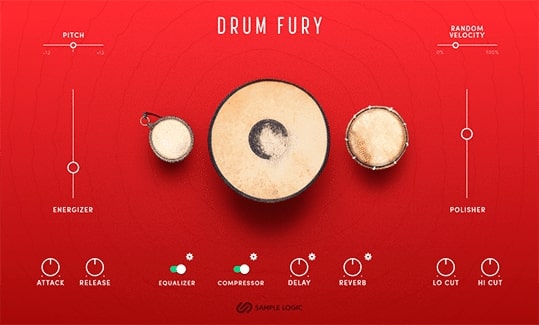 Crafting The Sound
FIRE AND FURY
Mammoth right out of the box, these instruments will set your cues ablaze. DRUM FURY was recorded at multiple locations; from the legendary scoring stage at Skywalker studios to cavernous spaces including churches and auditoriums. Not only is there a vast variety of newly sampled percussion material, but the Sample Logic engineers also dug deep into their previous recording sessions to gather the most massive sounds they've ever recorded, resulting in a collection of samples that gives DRUM FURY its big bombastic sound. The fury doesn't stop there…the team has also included a curated selection of sounds from highly regarded developers that culminates in the most apocalyptic drum library yet to be heard…and all at an affordable price.
SOLOS TO STACKS
The driving force behind DRUM FURY is to deliver epic drums in all their forms; from deep lows to thumping mids and slamming highs. Using the building blocks of DRUM FURY, it's super-simple to stack multiple instruments together and build your own wall of sound. From sparkling solos to larger-than-life ensembles, this collection covers all the bases and will surely become your go to library for creating cinematic epic drum parts.
Instruments Included Inside DRUM FURY:
⁃ Cinematic Impact Collections
⁃ Concert Bass Drum (Multiple Sticks)
⁃ Cymbals (Multiple Sizes, Strikes, Swipes & Scrapes)
⁃ Gong (Hits, Rolls & Rubs)
⁃ Marching Drums (Multiple Sticks, Solo & Ensembles)
⁃ Bass
⁃ Cymbals
⁃ Snares
⁃ Tenors
⁃ Taiko (Multiple Sticks, Solo & Ensembles)
⁃ Toms (Multiple Sticks, Solo & Ensembles)
⁃ Timpani (Multiple Sticks)
⁃ World Percussion
⁃ Conguita
⁃ Darbuka
⁃ Djembe
⁃ Doumbek
⁃ Dununba
⁃ Kpanlogo
⁃ Sakra
⁃ Udu
AT A GLANCE
113 instruments
10.64 GB Sample Content / 35,149 Samples
Powerful Mastering Tools via Energizer and Polisher
Entirely streamlined interface
Built for full Kontakt retail 5.8.1 or higher
Essential parameter controls to shift keymap range to stack multiple instruments and create custom ensembles
TECHNICAL SPECIFICATIONS
DRUM FURY includes 113 multi sampled instruments and a 10.64 GB sample library (over 35,149 samples) using Kontakt's lossless sample storage compression. (All samples are delivered at 44.1kHz/24-bit).
Full retail version of Kontakt, version 5.8.1 or higher (Will not work in the free Kontakt Player!)
Demo Preview: