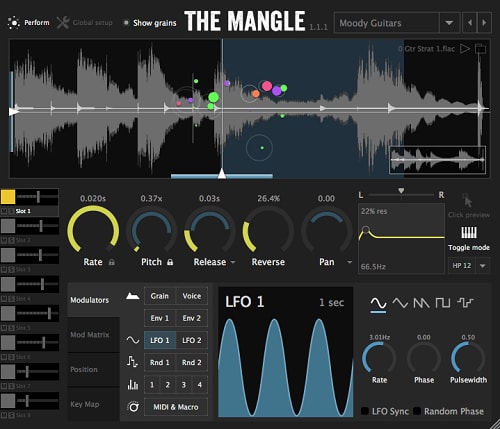 Sound Guru The Mangle v1.1.1 x86 x64 VST AU WIN & MAC
Size 195 Mb
THE MANGLE
Granular synth/sampler plugin
The Mangle grew from years of experiments with granular synthesis. The goal was to 'play' with the stream of grains in a musical and expressive way. This led to some unique features: a large XY area with real-time grain display. Pitch and tempo locking. True stereo grains and multi-timbral layering.
Stretch out rich harmonics from acoustic sounds. Turn field recordings into ambient soundscapes. Or bring in synth sounds to be shredded, exploded and recombined with intricate patterns and cloud effects.
Notes:
VST, AAX & Audio Unit plugins, in both 32 & 64 bit. No standalone version. Pro Tools 11 required for AAX.
OS X Snow Leopard 10.6+ or Windows 7+ required.
The Mangle currently ships with only a small library of example presets
Animated granular display
Visualize your grain stream. Individual grains move across the waveform in real time. Amplitude, pitch and envelope are also represented.
Drag & drop modulation
Creating new modulations is easy – just drag the modulator to its target, then set the amount with in-place markers showing changes.
Resizable vector interface
The Mangle's interface is rendered dynamically as vectors – resize it with no loss in quality. Handy for live performance.
Quad sequencers
The Mangle is also great for making rhythmic patterns. Four sequencers can be used to modulate any parameter.
Multiband waveform display
Quickly and easily see where high, mid and low frequencies are in your audio, for clearer sound setup and tweaking.
Multi-timbral
Each instance of the plugin has 8 full 'slots' each with their own audio & parameters. Map them to any MIDI range for multi-timbral patches.