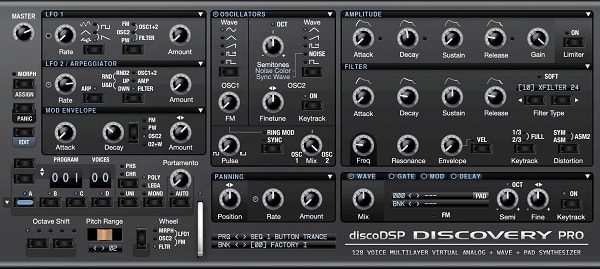 DiscoDSP Discovery Pro v6.8.0 Win & MacOSX
Size 246 Mb
Discovery Pro at a glance
Discovery Pro archives even higher quality and features than his small cousin Discovery, retaining all previous functionalities. We spent countless hours of hard coding, design and engineering, bringing the best discoDSP team work in the form of a new instrument.
Standalone app
We offer a Mac standalone app for those who don't really need a full DAW to run our plug-in. Windows and Linux will arrive later on.
VST3 support
We included Steinberg's VST3 plug-in architecture for Mac and Windows, supporting multi-channel and better management of multi-processing in 32 and 64-bit platforms.
The best stock sounds
You will find more than 60 banks and 5000+ presets.
Unison
A Nord Lead 2 modeled unison is now introduced after more than a year on the making. We have carefully measured Polyphonic and Legato/Mono to bring a sound as perfect as possible based on the original hardware.
Multi-size GUI
Discovery Pro graphics engine and is configurable in three window sizes: 1x (400p), 1.5x (600p) and 2x (800p).
No more squinting when trying to look at some parameter or search for a led anymore! Of course CPU has been dramatically optimised at any configuration.
PADsynth re-synthesis
Generating incredibly beautiful sounds from WAVE waveforms and imported waves. Perfectly looped wavetable samples rendered as SFZ.
PADsynth generates ensembles, choirs, bells and many other sounds easily.
2 new oscillators
Even broader sonic palette. A new parabolic waveform will be bliss for beautiful pads, soft sounds and new FM tones.
Pink noise brings that warm and lovely sound from classic synthesizers.
WAVE oscillator
Add new waveforms and wavetables in DWB banks, WAV (16 / 24-bit) or SoundFont 2.04 (SF2) formats easily.
Since it's not virtual analog synthesis we took extreme care of it by adding one of the best interpolation algorithms, resulting in very little aliasing and extraordinary resampling quality.
Zero Delay Nord Lead 2 and 12dB / 24dB Moog® filters
Discovery Pro 6 includes brand new Nord Lead 2 modeled Zero Delay Feedback filters. They sound amazingly great.
Moog filters are called X and Y, bringing a more sophisticated tone in addition to the 8 previous Discovery filters.
Graphic Modulation envelopes
Take your sound palette to high degree sound shaping. Just click and hold your mouse to draw time-synced mod destinations and get fresh textures.
What's New:
Drag and drop support for FXP / FXB / SYSEX / WAV / SF2 / DWB files.
Gate and Modulation mouseover displays values.
Modulation envelopes scroll wheel support.
Removed OSC2 / WAVE semitone decimals from LCD display.
Dynamic display for ADSR time values.
Aftertouch displays amount in % and + – correctly.
Fixed pitch bend issue importing Discovery banks.
Fixed Quick Stack Master volume issues.
Fixed MIDI to Velocity swap tick.