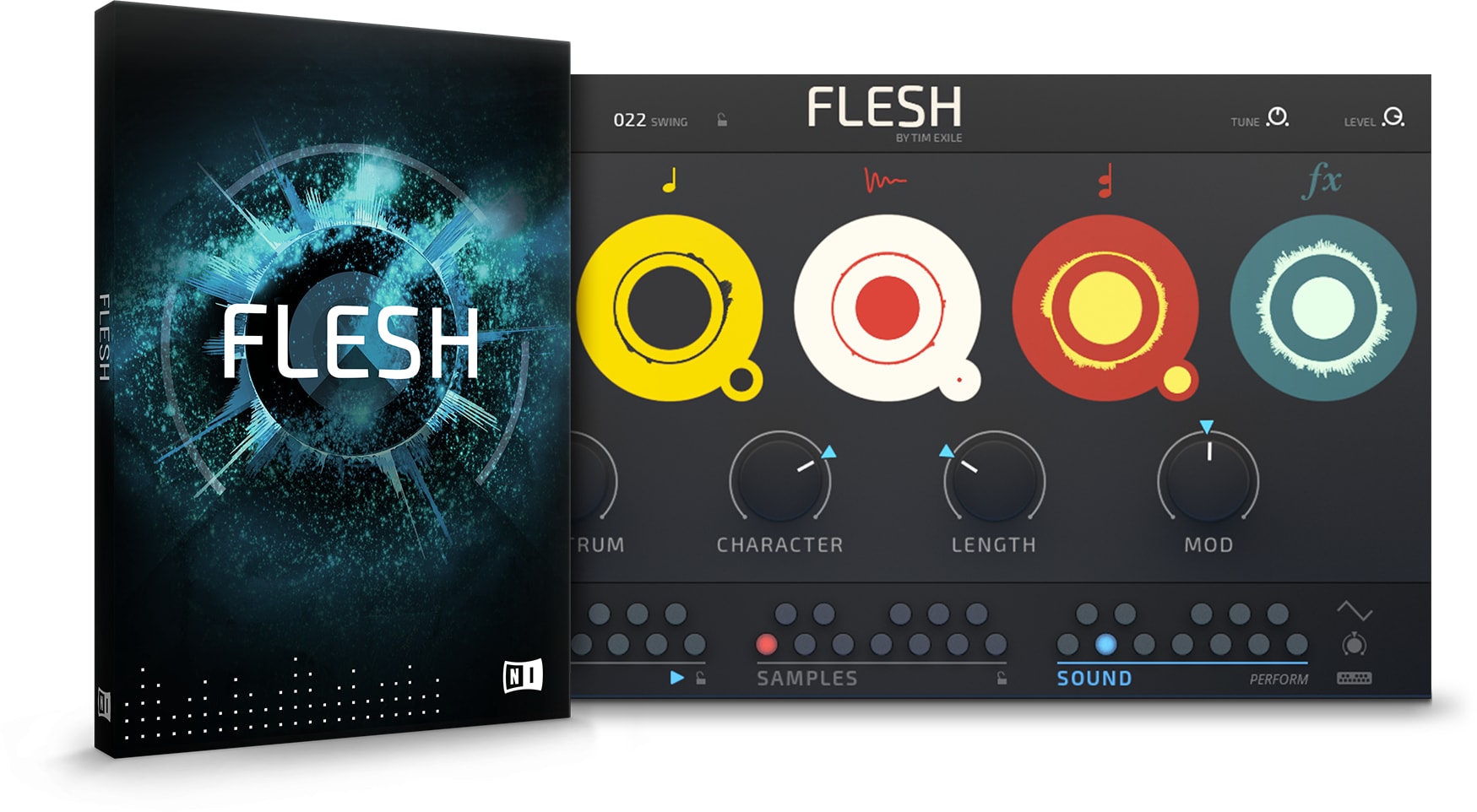 Native Instruments Flesh v1.0.0
Size 263 Mb 
FLESH is the latest creation by producer, musician, and inventor Tim Exile – a fun and innovative performance synth that turns anything you feed it into an electronic symphony.
AUGMENTED SONIC REALITY
Flesh out your rhythmic samples into full tracks
Made for hands on performance – in the studio and on the stage
Create inspiring melodies dripping with feel – no music theory needed
A BLAST OF INSPIRATION
FLESH augments your source material with dynamic basslines, riffing melodies, throbbing pads, and more. Switch, bend, and warp your way to twisted breaks and harmonic progressions with incredible hands-on performance power. Prepare for a blast of new inspiration.
MUSICAL MAGIC
Working with FLESH is easy. Load up to 12 samples and FLESH analyzes the transients and spectral profile of the sound. This information is transformed it into curves and triggers which gets sent to four audio engines for re-synthesizing new sonic material. All this happens automatically in the background. The result: Naturally dynamic riffs and grooves dripping with a feel faithful to the source material.
PERFECT PERFORMANCE
FLESH features a streamlined control set that lets you radically change the rhythmic and tonal output of the instrument. Play rich harmonic progressions on the fly. Trigger and switch source samples and sound snapshots in real time, then tweak parameters across all engines at once – all at the drop of your finger.
A clever system of global macro controls allows for consistent and tactile live tweaking. Four main controls – Spectrum, Character, Length, Mod – let you to subtly transform a sample or tear it apart into something completely new. And the clear labels make it easy to predict what you can expect from each knob turn.
DESIGNED FOR KOMPLETE KONTROL KEYBOARDS
FLESH is the first REAKTOR Instrument designed from the ground up to get the most out of the KOMPLETE KONTROL S-Series keyboards. Color-coded control octaves on Light Guide make it easy to see keyswitches – even on a dark stage. FLESH also uses the Light Guide to provide tight visual feedback, highlighting sounds and samples, and sequenced harmonies. Thanks to Native Map, parameters are perfectly pre-mapped to the eight control knobs on the KOMPLETE KONTROL keyboards. Plus, you can save presets – including samples – and recall them in real time.
ABOUT TIM EXILE
Audio maverick, technical genius and boundary-pushing performer, Tim Exile has seen his career move from performing small clubs, to big stages around the world and releasing albums on Planet Mu and Warp. For the last years, Tim has worked closely with Native Instruments to design his own set of 'audio instruments' including THE MOUTH and THE FINGER.