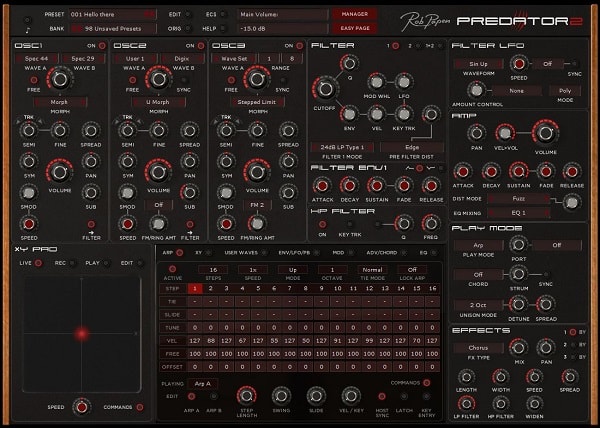 Rob Papen Predator 2 v1.0.3 WIN & MAC
Size Win 136 Mb // Mac 343 Mb
Predator 2 is the successor of a legendary synthesizer that has inspired many artists/composers and appears on countless music tracks! As before it combines inspiring presets and cutting edge features to make this your 'go-to' synth for contemporary music production.
The user interface has again been designed so that almost all main controls are visible on screen, making it fun and incredibly easy-to-use.
With Predator 2 and all its many cool features, we have also included an 'Easy Page' for the users that don't like too many controls. The 'Easy Page' offers you the most important parameters if you want to change a sound quickly or just want to use the handy 'preset variation' function, which is an intelligent randomizer.
Predator 2 is packed with new powerful features such as: 'Waveform morphing', 'Waveform drawing', "WaveSet playmode', XY pad, new EQ, and new voice level distortion…. and so much more!
Shipped with inspirational presets, Predator 2 is a unique synthesizer concept which combines 'User Friendliness' and 'Packed Features' in one amazing product.
FEATURES
Each oscillator is now dual, using two different waves (including the 8 user waves), with a variety of different waves of mixing / morphing between them
Each preset can hold up to 8 user waves, which can be combined into wave-sets, which can be traversed in different ways.
Each user wave is editable, using up to 256 partials, and with advanced commands to edit & shape these wavetables. Included with Predator 2 are many wave-tables and wave-sets.
each filter & oscillator is now fully stereo
much expanded second filter, with full controls & envelopes, plus a 3rd high pass filter
improved unison mode, so that you can now have up-to 6 unison sub-voices for each full voice, allowing unison to work in all play modes
XY screen, with recordable paths, which can be used to modulate all the controls
Dual Arp ( A & B) , with join mode allowing you to have up 32 step Arp. Plus new Sequencer Arp mode
increased envelopes & LFOs (up from 2 to 4)
Increased number of modulation steps (from 8 to 20), with advanced modulation mode allowing you to step limits & upper / lower amounts
Improved chord editing
Dual 3 band EQ with low / high pass filter which can be used pre / post of the effects.
Each section can have it's own presets, and commands such as clearing / copying / pasting
Easy mode
Big Screen mode
Much improved preset management, with find mode & tagging
Almost 6000 presets
Latest update version info:
Predator2 v1.0.3a (PC) – 11 October 2017 | Predator2 v1.0.3a1 (Mac) – 28 March 2018
– Mac fix with disorder in the bank folder list
– improved installer / activation
– other small fixes